Picture yourself stepping into a vibrant cafe, you sip your favourite cappuccino while your pet also socializes with fellow furry friends or sits next to you playing with his own chew toy! Isn't this a perfect pet-friendly outing?
In this blog, we have curated a list of top-pet-friendly cafes in India that welcome not just their human companions but also their four-legged friends with open arms. 

Oh My Dog, Mumbai
Oh My Dog is a one-stop shop for buying all your pet products. Whether you're looking to meet other dog owners, socialize with your pet, or simply spend quality time together, this pet-friendly haven provides the perfect setting. They even have a grooming centre to pamper your pooch and a few in-house dogs with whom your furry friend can socialize. Cafe Peter is just next to the Oh My Dog shop. The cafe also boasts a separate food menu for dogs and their humans! 
Cost for two – INR 850
Location – Andheri West, Mumbai

Cafe Soul Garden, Delhi
It is one of the prominent pet-friendly cafes in Delhi. As you step into this garden-like and sunshiny cafe, you are greeted by their in-house dog named Daaku. The cafe happily provides water bowls and meals to your pooch. However, you need to carry lunch for your pet. The outdoor area of this cafe is perfect for your pets to run around and play. You can enjoy the warm ambience of this cafe which has an indoor seating area with a pool table option and an outdoor seating area that gives the feel of enjoying in a garden. 
Cost for two – INR 1300
Location – DLF Phase IV, Sector 43, Gurugram

Pet People Cafe, Bangalore
True to its name, the Pet-People Cafe is located inside the Paws and Collars store in the HSR layout in Bangalore. It is a prominent cafe in Bangalore known for its lip-smacking delicacies. The most intriguing thing? It also has a vegan food menu for pets! More than a cafe, this place is a labour of love for your pets. Right from the founding staff to chefs, this cafe in Bangalore is conceptualized by pet lovers and for pet lovers. 
Cost for two – INR 1200
Location – Sector 4, HSR Layout, Bengaluru

Gunpowder, Goa
Gunpowder Cafe is in Assagao, North Goa. The cafe is home to many furry friends. Luna and Queenie are the in-house pups for your hospitality. Both these doggos are friendly and curious. There are many other in-house pets with whom your pooch can socialize. Even the staff is quite welcoming and friendly. Otherwise, this cafe is known for its delicious food and cocktails. Your pet will have a gala time in this cafe. He will make a lot of new furry friends and will not feel like going out!
Cost for two – INR 1400
Location – Assagao, Goa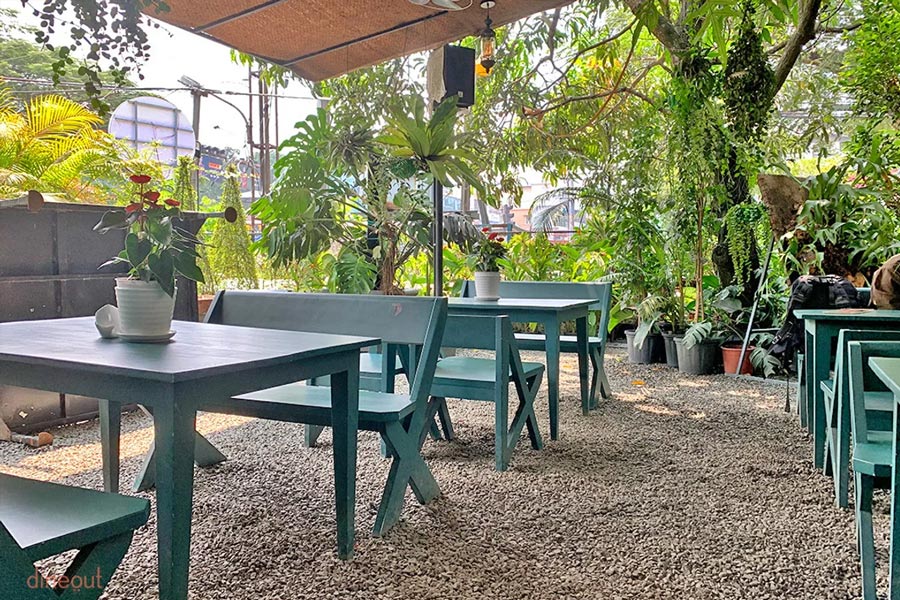 Frees Trees Garden & Cafe, Kerala
This is a dog-friendly restaurant in Kochi. Your Fido can join you at an outdoor table. There are a lot of pets who roam around and like to play in the outdoor area. Even this cafe has a separate food menu for pets. The delicacies are prepared with fresh, organic ingredients. 
Cost for two – INR 600
Location – Edappally, Kochi
Unleash the joy of dining out with your furry friend at these pet-friendly cafes in India. From delightful treats to warm hospitality, these havens create a welcoming space where wagging tails and happy mealtimes go hand in paw.